Verified Customer Reviews for Dainese D-Air Smart Jacket
Excellent Product
17 May 2023 by Peter B
Very comfortable to wear, despite being heavier than I expected.
The only slight negative is the catch at the top, which is also the on button, I find this fiddly to connect.
I found the size slightly smaller than I expected, the next size up was a perfect fit.
Description
Dainese D-Air Smart Jacket - LS
Lightweight and highly breathable abrasion-resistant textile construction
Pro-Armor level 2, Type B soft protectors on the elbows and shoulders
Intelligent trigger system with integrated gyroscope, accelerometer and GPS
The system checks itself every 1000 times per second, for fast-acting trigger
D-Air microfilament airbag technology originally developed for MotoGP
Built-in rechargeable battery (Lasts 26 hours) with a USB charge cable
Automatically activates when it detects vibration or moving faster than 10kmh
Protection provided is equivalent to seven CE level 2 back protectors
Full 360-degree impact tracking, system works when stopped at lights
Covers highsides, lowsides (without tumbling) and lateral collisions
Requires D-Air app to sync and register, available on iOS and Android
Large front zip closure system with two zipped pockets for small items
Requires no connection to the bike, thanks to the fully wireless system
Replaceable internal airbag and inflator
The Smart Jacket LS is a ventilated motorcycle jacket that combines the versatility of a light, ventilated garment with the intelligence and ultimate protection of the Dainese D-air airbag system. It can be used as a normal ventilated jacket, without the need for other coordinating garments, and does not require a subscription. Made of certified, abrasion-resistant, ventilated fabric, it is also suitable for use on the hottest days, ensuring excellent breathability. The Dainese D-air system used in MotoGP and developed over 25 years of research monitors what is happening around the rider 1,000 times per second with its seven sensors. With no need for cables or connections, it autonomously detects any dangerous situation and immediately activates the Shield, an engineered microfilament airbag that offers the highest level of protection to the chest and back, also limiting any neck and helmet movement. The system activates and protects in the event of sliding, high side, impact with an obstacle or vehicle, or rear-end collision, even when stationary.
Size Guide

| | 34 | 36 | 38 | 40 | 42 | 44 | 46 | 48 | 50 | 52 |
| --- | --- | --- | --- | --- | --- | --- | --- | --- | --- | --- |
| EURO SIZE | 44 | 46 | 48 | 50 | 52 | 54 | 56 | 58 | 60 | 62 |
| LETTER SIZE | 3XS | 2XS | XS | S | M | L | XL | 2XL | 3XL | 4XL |
Manufacturer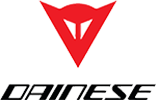 About
Dainese
In 1972 Mr Lino Dainese made some leather motocross trousers, starting a biking brand that has since brought style and innovation to motorcyclists the world over. Working with some of the most evocative names in motorcycle racing, Dainese led the way in the development of leather stretch panels, knee sliders and race suits- cut to suit the rider in a real world riding position. The 80's brought back protectors (with Barry Sheene), composite armour, and more aerodynamic suits; whilst the 90's brought gloves with knuckle armour and the first biking airbag system. Dainese remains at the forefront of motorcycle clothing technology and continues to be the brand of choice for the biggest names in bike racing, all the way up to the greatest rider of all time, Valentino Rossi. Today, Dainese is one of the most recognisable, coolest, and most aspirational motorcycle brands on the planet. With a well deserved reputation for safety that has crossed over into nearly every extreme sport there is, the name Dainese is synonymous with style, protection, comfort and durability.

You won't get it cheaper.
Our Price Match Promise.