Verified Customer Reviews for Oxford 22mm Beast Chain
Great Lump of Metal
03 July 2023 by Lara
This chain is THICK at 22mm, I got a 1.5m chain that has large ring loops. It's not as heavy as I thought, and is quite noises to move, which I think is a good thing.
I currently use D-Locks with this chain, but in the future the Boss lock that goes with it makes more sense. One thing I have done is cut the sleeve and added a second D-Lock, shackling it again. Due to the large loops, I've been able to double up this chain effectiveness.
A must have chain in my honest opinion
The Beast
06 May 2023 by Stephen
I knew it was a big when I ordered it, but wow, it's huge, this is not one for carrying around, for the wannabe thief, it will, without doubt make them move on to an easier option. Great for home use. Long enough to secure in various ways. Very happy with my purchase
A true beast !
22 March 2023 by Anonymous
I hope I never find out if the beast chain is really worth having, but it is a genuinely impressive piece of kit. Huge !
SBS were great to deal with as usual.
Awkward
22 January 2023 by Samuel W
It's a very heavy duty and heavy chain. Not something you can carry with you. Depending on what your wheels are like on your bike, it's quite a squeeze to get through the gaps
A proper beast!
21 November 2022 by S G
This thing is massive. I'm sure it can be cut through eventually but it'd take time and that's what you need. Too heavy to carry with you but perfect for locking your bike up at home.
Heavy duty
23 June 2022 by James W
Big heavy duty chain, should've got the longer one but still happy
It's one heavy thick chain
15 May 2022 by Jacob B
I would like to say it's one of the best out there which I hope it is on the reviews or one of the reviews I saw on a video it said it takes I like 14 minutes to cut two pieces through to get the lock off funny enough I've just had a Guardsman barrier fitted on the inside of my garage and I was chatting with the chap and he said if you've got a decent disc cutter he reckons he could cut through it in a minute and a half but it's a minute and a half of a lot of noise and you've Gotta have to have professional equipment to do it so better to have the thickest one then one that takes a few seconds to cut with bolt cutters… like everything if you can afford it it's great
Beast chain
04 May 2022 by Anonymous
Very heavy, proper chain. It will definitely take some time to be cut through.
BEAST Chain
31 March 2022 by Andrew W
Is exactly what it says on the description.. feel like Rocky carrying this thing no one's robbing your bike in a hurry paired with the BEAST lock ..
A chain with one purpose in life
28 March 2022 by Anonymous
This product is heavy and a would be challenge to any thief wishing to remove it. Excellent value for what it is and what it may help to prevent . Used in conjunction with the beast ground pin and lock it presents as a formidable piece of security.
Real Beast
11 January 2022 by Anonymous
The chain is heavy and comes powder coated, I have been using the chain for several months and as to be expece the powder coating has worn off in some places which is to be expected, pleasantly the chain is not rusting up.
The chain is also moslty covered in a nylon sock which helps prevent damage to the wheel.
The chain and beast lock are expensive but in my opinion are well worth the investment. I use it with in conjuction with an alarmed disk lock on the front and back of the bike in an effort to make the it seem more bother than its worth to try and defeat all these devices and look for an easier target.
Beast chain
29 December 2021 by James E
To get it out the way - this thing is a beast by name AND nature; you're not going to be putting this in your bag and taking it with you.

Though, for your garage, shed, or for under your outdoor cover, look no further for some serious security - paired with the Beast lock, you're armed with some serious hardware for making sure your beloved bike stays put.

The longer, 2m, version is ideal for that extra reach for an anchor, or for going through the wheels of two (very closely parked) bikes; though I did feel sorry for the delivery guy - the 2m chain alone weighs in a hefty 15.5kg, pair it with the Beast lock and you're weighing in at over 19kg!
Oxford 22mm beast chain
21 December 2021 by Kevin W
Sportbikeshop brilliant service!
I purchased the complete package with the Beast lock, chain and anchor has achieved a Sold Secure DIAMOND rating, ensuring it is able to withstand forceful and sustained attacks. To be awarded a DIAMOND is no small feat. The Beast has passed attack tests from a huge range of tools, commonly used by thieves including, pliers, bolt croppers, drill, and most impressively a 90 second angle grinder attack. One of the best security packages on the market keep any motorbike secure.
Oxford 22mm beast chain
06 December 2021 by Anonymous
Very good buy, excellent value for money
Beast of a chain
04 December 2021 by Mark L
24 hour delivery chain and lock is massive will deter theft
Amazing
02 December 2021 by Reece
Absolutely amazing quality very heavy and durable does exactly what you need I certainly wouldn't waste my time trying to cut through it! Highly recommend! Puts your mind at ease.
It's certainly a beast
29 September 2021 by Paul C
It doesn't get better than this for Security at home
Beast of a chain
29 July 2021 by Ben
After shopping about for a while, currently this seems to be one of the biggest chains from a reliable name you can buy. It feels and sounds like it belongs on a ship. It is definitely not for use out and about as it is way to heavy to cart around but it is reassuring to know its there at home when I cant be. It would take some serious effort and noise to break this thing. The chain itself is coated to resist corrosion and the sleve is a tough nylon which avoids any scratches to paintwork, although due to the weight and size of the links I cautiously guide them through the spokes of the wheel. The only downside is the price but quality doesn't come cheap.
Press Reviews for Oxford 22mm Beast Chain
Description
Oxford 22mm Beast Chain
Oxford's largest and strongest ever chain
Designed to resist angle grinder attack
22mm diameter links
Durable black painted links
Sold Secure Diamond rating
Lock not included
The Oxford Beast is so big it comes with a health warning on the box, with 22mm hardened steel links which make it a perfect match for the Beast lock.
Related Items
Manufacturer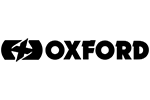 About
Oxford
Oxford was established in 1973 and has grown into a leading global supplier of motorcycle products. Its vast range encompasses everything to improve life on two wheels: from clothing and helmets to accessories, hard parts, locks, luggage and much more. Products are designed in-house by a team of active enthusiasts and skilled technicians, based at the company's purpose-built headquarters in Oxfordshire. With the support of the latest CAD technology, a 3D printing suite and a fully equipped test laboratory, Oxford invents, develops and refines its products in pursuit of the best experience for two-wheel enthusiasts. Oxford employs over 150 staff and has ambitious plans for further growth in both the UK and globally.
Questions and Answers
Questions and Answers
I want to now what this chain can fit through. I have an eyelet anchor and need to know whether is will fit through.

February 28, 2023

This chain can fit through the Oxford Beast Ground Anchor or the Oxford Beast Floor Lock. I'm afraid other ground anchors from Oxford are not large enough to accommodate the chain.

You won't get it cheaper.
Our Price Match Promise.