Verified Customer Reviews for Oxford Beast Lock
Brilliant
22 January 2023 by Samuel W
Very heavy lock . I don't see thieves even attempting it to be honest . The only negative is the actual lock where the keys goes has no cover so is open to the elements all the time . Can be a little tricky to get the key in at first
Sturdy beast
21 November 2022 by S G
Seems very sturdy and combined with the Beast lock is probably the best motorcycle lock system you can buy. Not cheap but you get what you pay for. Recommended.
Chunky
23 June 2022 by James W
Great sturdy lock, looks hard to break - could do with a small cover over lock barrel.
Best lock
04 May 2022 by Anonymous
Very well mage, good quality, will make the thief not want to even try to steel it.
BEAST Lock
31 March 2022 by Andrew W
Is a BEAST for a reason..paired with the BEAST Chain its definitely stopping the low life's from robbing your pride and joy
Beast by name
28 March 2022 by Anonymous
Expensive , but you don't get many of these to the pound .
If there is a way of persuading any potential thief to go elsewhere, this Is it. Other reviews have suggested improvements such as a cover on the key way. Perhaps a squirt of oil may do for now!
If you are looking for a heavy weight lock…. This is it.
Don't drop it on your foot!!!!!
21 March 2022 by Charles
Its a brute.. And if this doesn't make a potential thief think twice, then they need their head looking at.
Its weight alone is impressive,

The only downside, they should have put a cover of some description on the keyway. At this price, if its damaged by water ingress, then its a pretty poor shout.
Security beast
29 December 2021 by James E
To get it out the way - this thing is a beast by name AND nature; you're not going to be putting this in your pocket and taking it with you.
That being said, if you're after a real tough lock for the garage (or wherever else you keep your bike) this is perfect; paired with the Beast chain, it's sure to be a real pain to any would-be thief; Sold Secure seem to agree, given they've given it the highest motorcycle diamond rating.
The lock came with three keys.
Oxford Beast Lock
21 December 2021 by Kevin W
Sportbikeshop brilliant service!
I purchased the complete package with the Beast lock, chain and anchor has achieved a Sold Secure DIAMOND rating, ensuring it is able to withstand forceful and sustained attacks. To be awarded a DIAMOND is no small feat. The Beast has passed attack tests from a huge range of tools, commonly used by thieves including, pliers, bolt croppers, drill, and most impressively a 90 second angle grinder attack. One of the best security packages on the market keep any motorbike secure.
Heavyweight champ
29 July 2021 by Ben
I bought this to go with the beast chain. This thing is sturdy and seems well built. It weighs a tonne so as with the chain, is not the sort of device you would use out and about but is perfect for home. Not had any issues so far. As with the chain, this is not the cheapest on the market but the level of protection is top end. As usual, great service from SBS
BEAST by name...
27 July 2021 by Robert H
This is a big, heavy lock. Not really portable and not usable as a disc lock. In combination with a big chain and a ground anchor, hard to imagine all but the most determined thief having any joy making off with your pride and joy.
Biggest and strongest lock I could find
21 June 2021 by Joe
Biggest and strongest lock I could find, seems big enough to deter an attack. Too heavy to travel with so will leave at work. Sprayed with ACF50 so hopefully lasts many years.
Beast of a lock
15 June 2021 by Neil B
a bit tricky to man handle with its weight plus the chain. Bought for its diamond rating. Don't drop it on your foot.
It's called BEAST for a reason
18 May 2021 by Tom C
After a week or so of convincing myself that spending >£100 on a lock was a good idea, I am so pleased I did. One of the main purposes of a lock is to deter criminals and this does that in spades! It is heavy, but is this really a bad thing?

Pair with the Oxford Beast 2wmm chain
Beast lock
15 May 2021 by Thomas H
Excellent heavy ,large lock gives confidence it's going to give thieves a hard time
Gives you peace of mind!
12 May 2021 by G. T
Great product to match my oxford beast chain. Very heavy!
A1 lock
02 May 2021 by Patrick A
This clearly has to be the lock of all locks!
Really !
I've not seen a lock that's so solid than this one again expensive but worth every penny if it keeps thieves from stealing your pride & joy so yes if you haven't got one I'd recommend you get one 100%
Beast by name beast by nature
02 April 2021 by Craig
Visually menacing and heavy duty. Works perfect with the beast chain and looks quite the combo. Pricey kit but reduced to £100 a piece now it's a very worth while investment. Only reason I've gave it 4 out of 5 stars is that for such a heavy duty lock it marks incredibly easy. Also the C shaped key can be a bit fiddly if you can see the hole. Mine only does a quarter turn to lock/unlock so feels a bit weird compared to other locks. Dont know of this is a one off or not.
Press Reviews for Oxford Beast Lock
Description
Oxford Beast Lock
Ultra-strong padlock with a hardened surface
Designed to resist angle grinder attacks
30mm locking pin
Sold Secure Diamond rating
Weight approx 3.6 kg
The Oxford Beast is so big it comes with a health warning on the box, with its 30mm locking pin it is nearly double the size of any of Oxford's existing locks.
Beast Chain
Floor Adaptor
Manufacturer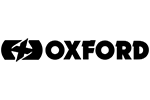 About
Oxford
Oxford was established in 1973 and has grown into a leading global supplier of motorcycle products. Its vast range encompasses everything to improve life on two wheels: from clothing and helmets to accessories, hard parts, locks, luggage and much more. Products are designed in-house by a team of active enthusiasts and skilled technicians, based at the company's purpose-built headquarters in Oxfordshire. With the support of the latest CAD technology, a 3D printing suite and a fully equipped test laboratory, Oxford invents, develops and refines its products in pursuit of the best experience for two-wheel enthusiasts. Oxford employs over 150 staff and has ambitious plans for further growth in both the UK and globally.

You won't get it cheaper.
Our Price Match Promise.