Verified Customer Reviews for Oxford Boss Alarmed Disc Lock and 14mm Monster Chain
Wowsa
19 August 2023 by Ajaya S
Purchased this chain and lock and yes it's a monster at a great price and the usual fantastic service and delivery from sportsbike thank you again
Chunky
25 July 2023 by Anonymous
Seems decent quality and a very heavy chain. Using with a ground anchor and seems like it'll slow any scum bags down. Disc lock seems good. I've been using one without the alarm for years and it's very good. The alarm doesn't quite seem 100db to me but I could be wrong!
Heavy, Man.
24 July 2023 by Bru
Did not realise just how heavy this was until it arrived. Not a problem, it was intended as a 'home' lock rather than a carry one - although of course the lock can be used separately.
The lock alarm. Not sure if mines got a flat battery, but it isn't that loud. Put it this way - my fairly jumpy cat was on the sofa next to me when I set it off - twitched her ears, that was it. So only 4*s, I'm afraid. Useful to remind you that you've left the lock on, but I don't think it would deter a thief. May still get another one for home use.
Good bit of kit
17 June 2023 by Tracey R
This is the second one of these we have purchased as now have ground anchors instead of using the one alarm on two chains. These chains are big and heavy and will hopefully take a while to get through. The alarm is loud but not amazingly loud. You can lock it with or without the alarm on which is good in really heavy rain/hail as this will set it off.
Excellent
10 March 2023 by Simon K
Great product. Great service and quick delivery from SBS.
Great chain & lock, but bit on the quiet side
29 December 2022 by @PVLU_MOTO
Monster chain is what it is for sure! Nice lock too. But the alarm is a little on the quiet side. It's rather heavy to lug around, I use it with my Oxford ground anchor in the garage.
Good security
16 December 2022 by Mihai C
It's a good bundle for starters, the only downside is the weight of the chain(5kgs), I had to buy a small saddle bag to keep my chain inside, but it makes a big difference when chain is also attached. Best Regards,Alex.
Padlock weights around 1kg.
The Oxford Boss - Well it's Boss!
22 April 2022 by Paul V
Simple to use alarm lock, that's really loud, with really heavy and strong chain. The chain is covered so won't scratch your wheels. The lock can be stored under the seat and then used a disc lock - you will need a reminder cable if using it this way.
Very solid chain and excellent lock
19 March 2022 by Steve W
I always seem to come back to Oxford locks, you just can't beat them for being solid, secure and well made. Nice loud alarmed lock which can double as a disc lock if you can't lug the chain around with you.
Very good lock and chain
09 March 2022 by Anonymous
This is an excellent lock and chain combination, good for securing bike at home and then take the lock on the bike ride to use as a disk lock. And you have to option to have the lock alarmed or not.
Deter the thieving scum with this
30 December 2021 by Anonymous
Strong chain, very loud alarm!
Coupled with a good ground anchor, this should make your pride and joy too much of a pain for all but the professional thieving scum
(Had my bike pinched recently so still sore…)
Good product, delivered promptly as always.
J
Loud alarm and hefty chain
18 July 2021 by Anonymous
Not tested but good deterrent, Take the disc lock with bike, chain is too heavy to carry on bike unless absolutely necessary but great for static location.
Not loud enough
14 July 2021 by Paul
A very chunky and off putting chain for those looking to make off with your prized possession. However, the lock looks like it belongs in Mothercare.
It looks cheap and nasty. It's not. But the major disappointment is the Db of the "alarm".
Needs to be more!
Worth the money just for the ships anchor chain.
Excellent lock for home storage
28 June 2021 by Anonymous
Excellent size and feels heavy, will be a major deterrent for theft. My bike is stored inside a locked shed anyway however always good to have backup security, 2 of these and an alarm disc lock are plenty of security so I never have to worry about it. Chain is very heavy, not best for taking out but do-able if necessary, perfect for leaving somewhere (home, work etc)
Sturdy and well made.
02 June 2021 by Edward
Excellent product as always with Oxford. I truly feel at ease tucking in my two-wheeled friend for the night.
Very secure
18 May 2021 by Anonymous
Ideal chain and alarm for driveway security.
not that sensitive but quality product
07 February 2021 by Chris
the shake sensor is not sensitive enough so i guess can be picked and worked out if someone is gentle without activating. Good built quality and chain is very secure made of 14mm treated steel. i combine it with another alarm disk lock next to it just in case
Good value
06 February 2021 by Anonymous
Amazing product for the money value.
Description
Oxford Boss Alarmed Disc Lock and 14mm Monster Chain
Huge 14mm hexagon chain made from hardened Cro-Mo chain reinforced with Titanium alloy
Long links help reduce weight and increase portability
Zinc coated to prevent corrosion
Cloth covered chain to help prevent scratches
Angle and shock sensors warn off thieves with a 100dB alarm siren
Long battery life, typically 6-12 months
Uses 6 x LR44 batteries
14mm lock shackle prevents bolt cropping
Double-locking shackle with ball bearing mechanism gives utmost reliability
Semi-elliptical key barrel design offers protection against lock picking and drill attacks
Key way dust cover
3 keys included
Ultra-high security padlock and chain combination for protecting your motorcycle. Sold Secure Motorcycle Gold approved exceeds insurance requirements and provides an excellent security solution. Whenever possible it is recommended to lock your motorcycle to a ground anchor or other secure point.
Manufacturer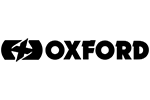 About
Oxford
Oxford was established in 1973 and has grown into a leading global supplier of motorcycle products. Its vast range encompasses everything to improve life on two wheels: from clothing and helmets to accessories, hard parts, locks, luggage and much more. Products are designed in-house by a team of active enthusiasts and skilled technicians, based at the company's purpose-built headquarters in Oxfordshire. With the support of the latest CAD technology, a 3D printing suite and a fully equipped test laboratory, Oxford invents, develops and refines its products in pursuit of the best experience for two-wheel enthusiasts. Oxford employs over 150 staff and has ambitious plans for further growth in both the UK and globally.

You won't get it cheaper.
Our Price Match Promise.