Verified Customer Reviews for Dainese Cyclone D-Air Gore-Tex Textile Jacket
Quality jacket but with design flaws
22 April 2021 by David
I bought this D-Air goretex jacket for all weather use because I already have a dry day use D-Air leather jacket which I love to bits.
I was hoping for a goretex version of the leather. Unfortunately they are completely differently configured jackets. The jacket itself oozes quality and feels great but does not have an integrated airbag like the leather one. Instead it has an airbag vest insert. This makes the jacket really bulky (like two jackets). Also the vest insert seems to be a much smaller size than the jacket it is in, making it hard to zip up the vest whilst the jacket is too big if anything. Also means you can't layer up inbetween the vest and the jacket. Then the sleeves, these are over 2 inch longer than on the same size in the leather version. Finally, there is a gas cartridge sitting right on the base of your spine, which digs in when leaning forward. Again, no such issue with the leather version. It's a shame because I really wanted to keep this jacket to have an all season airbag option but it's just too many design flaws to justify the £1100 price tag. For me anyway. Perhaps someone with a different body build might be fine with it.
Description
Dainese Cyclone D-Air Gore-Tex Textile Jacket - Black / White
Hard wearing SPL 600XK outer construction
Waterproof and breathable laminated Gore-Tex
CE certified shoulder and elbow protection
Integrated D-Air protection airbag system
Polyurethane shoulder armour leather inserts
Adjustable sleeves, hips, neck, waist and wrists
Elasticated inserts for enhanced comfort
Full jacket to jeans connection zip
Large vents on chest and back for airflow
Removable inner collar ideal for summer
Two inner and three outer pockets
Night-time visible reflective details
Size Guide

| | XS | S | M | L | XL | 2XL | 3XL | 4XL |
| --- | --- | --- | --- | --- | --- | --- | --- | --- |
| UK CHEST | 38 | 40 | 42 | 44 | 46 | 48 | 50 | 52 |
| EURO SIZE | 48 | 50 | 52 | 54 | 56 | 58 | 60 | 62 |
What is Dainese D-Air?
Dainese D-Air is a revolutionary piece of safety equipment similar to airbags found in cars, but much smarter. In the event of a crash the Dainese D-Air system will deploy airbags at the collarbones, shoulders, chest and back, faster than you can blink, dispersing up to a staggering 90% kinetic impact energy that would normally be transmitted straight to your body. There is no need for external sensors to be installed on your bike or to be tethered via a cord, as all D-Air equipment wirelessly monitors your status using a multiple array of sensors built right into this jacket - Simply turn on your airbag system, let it calibrate for a few seconds and ride like normal. There is a handy LED indicator to show you the status of your airbag, so you will always know you're in safe hands.
Features
Product Specification
Manufacturer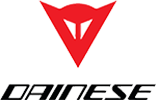 About
Dainese
In 1972 Mr Lino Dainese made some leather motocross trousers, starting a biking brand that has since brought style and innovation to motorcyclists the world over. Working with some of the most evocative names in motorcycle racing, Dainese led the way in the development of leather stretch panels, knee sliders and race suits- cut to suit the rider in a real world riding position. The 80's brought back protectors (with Barry Sheene), composite armour, and more aerodynamic suits; whilst the 90's brought gloves with knuckle armour and the first biking airbag system. Dainese remains at the forefront of motorcycle clothing technology and continues to be the brand of choice for the biggest names in bike racing, all the way up to the greatest rider of all time, Valentino Rossi. Today, Dainese is one of the most recognisable, coolest, and most aspirational motorcycle brands on the planet. With a well deserved reputation for safety that has crossed over into nearly every extreme sport there is, the name Dainese is synonymous with style, protection, comfort and durability.
Questions and Answers
Questions and Answers
Hi sorry to be so uneducated in this concept but once the airbag has been deployed can it be reset and used again - if so - who does this and what would the cost be? Or is that it a one off airbag? Is their trousers also - to protect the legs? Thank you- HS

November 20, 2018

The airbag can only inflate once, and must be replaced after each inflation. Contact the DAINESE Technical Assistance Service for the replacement procedure (you can arrange this through ourselves). IMPORTANT: in the event of a fall during which the system is triggered, do not use it again until the airbag has been replaced (or re-gassed depending on the severity of the incident) after each inflation. There will be a service charge for the inspection and any work carried out by Dainese, but this will vary on what work needs to be completed. Unfortunately Dainese do not offer any jeans/trousers that are compatible with a D-Air System.

Whatâ s the recommended life of the d air unit?.. And what length is the guarantee on the unit and jacket please.

November 20, 2018

The duration of a protective device depends on its frequency of use and the care with which it is stored by the user. In any case, the user should contact the Dainese Technical Assistance Service once every 5 years to request a maintenance check and the servicing of any components subject to wear. The Jacket itself is covered under Dainese's 2 year warranty, with the Gore-Tex membrane having lifetime warranty (with Gore-Tex and not Dainese).

Hi,what is the weight of this jacket with the air bag and with no air bag??please??

March 30, 2018

This jacket with the air bag fitted weighs approximately 4.5kg and 2.5kg without the air bag.

You won't get it cheaper.
Our Price Match Promise.