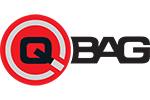 QBag Tail Bag 4 - Black
Verified Customer Reviews for QBag Tail Bag 4
Q bag
15 September 2023 by Steven J
5 star quality for the money . Works perfect on me 2003 R1 for my overnight stay aways or weekend
Best tail bag for my bike
10 July 2023 by Jeff P
I have a Royal Enfield Meteor Supanova. This bag is perfect for my touring. It is easy and quick to fit feeling secure against the backrest. I am going to Switzerland soon and will use this and my tank bag to carry all I need. The bright yellow florescent rain cover means I can be seen by other traffic and it will keep my things dry. As extra security I fit a couple of expandable buggies over the rain cover which are easy to put on and remove. I have tried lots of tail bags but this is the best one I have ever had. Quality of the construction and the material is excellent.
Q Bag
10 June 2023 by Dave T
Used a Z900, fits fine and doesnt move. Easy to take on and off the bike. Big enough for a short tour. Normal use a backpack, this is so much better.
Great bit of kit!
23 May 2023 by Steven F
Great quality and a good size for a sports bike. The pillion/seat cowl pad is great for stability and preventing unwanted scuffs and scratches.
Excellent
26 April 2023 by David M
Bought this to go on the back of my fireblade for an upcoming trip to the Moto GP. The bag is really well built, has more than enough storage for a decent weekend away and will fit nicely on the back of my bike without making it look like a tractor.
Quality chunky zips that fasten together and all stitched well.
Great bag for touring
22 April 2023 by Gerry L
Good system for strapping on the bike (saddle or rack) and enough capacity for a short break. Handy side pockets include a high-vis waterproof cover. Hand and shoulder straps made it easy to arrive at a stopover and take all stuff.
Good price for good quality
09 April 2023 by Jason F
The features on this tail pack combined with the quality are excellent for the price of this product. Like the little fasteners that hold the zip pulls down.
Fitting is initially a head scratcher but once worked out where best to attach, it's secure and solid.
I
QBag Tail Bag 4 just the job
08 February 2022 by Mr.Richard W
Fit on the bike spot on and carry every thing I need for work and not to big when going through traffic
Tail bag
26 January 2021 by Ian C
Fits perfectly. Quick delivery.
Easy to install
29 November 2020 by Matthew T
Very easy to install and bigger than you would think! Thank you! Excellent customer service.
Tail bag
05 November 2020 by Andrew R
Excellent bag, fits perfectly to my gsxr 1000 rear pillion seat.
Doesnt come with instructions on how to fit and can be a bit of a puzzle to fit but once figured out is excellent bag
Great Bag
28 July 2020 by Soren N
Very good quality for the money pad. Fairly sturdy with many ways to attach it to the bike. On my Speed Twin the 4 straps can be tied under the saddle which means taking it on and off is as simple as four clicks. One negative is, that it will only fit a 14' laptop standing upright at a diagonal, which makes packing a little troublesome for my daily commute. Aside from laptop, I can fit a 1,2 liter flask for my coffee, rain gear, the rain cover, a shirt, chain and disc lock. Pretty much perfect. Highly recommended.
Great bag but no instructions.
11 April 2020 by Paul
Great quality bag that fixes securely to my sports bike. Fluorescent markings on all sides. Zips that clip in to secure. Would be a 5 star review if the bag came with instructions. I have parts left over I have no idea what they are for and had to figure out how the fixings worked. Even a Google search and the manufacturer's web site drew a blank.
Great bag
09 April 2020 by Anonymous
Looks great on my Bonneville T120 where as a top box just wouldn't look right! Bit of a puzzle getting it secured but got there in the end!
Just what I needed
19 February 2020 by Mark D
I needed something that I could pack in my running gear plus lunch for the daily work commute and this bag is perfect. Very secure once fastened down with the elastic straps plus the clip on straps (x8 secure points in total).
The supplied raincover has certainly been tested this week and is more than up to the job. Would definitely recommend.
Puzzle bag
10 February 2020 by Steve B
At first I thought I was going to send this bag back. No fitting instructions with mine so 5kg limit the only bit of useful info given (by generic sewn in safety blurb). It takes a bag of shopping from the supermarket. Eventually got the bag set up to suit my bike and it's pretty good although it doesn't look as cool when it's empty as it doesn't keep its shape. Maybe I should have titled the review 'fussy man'! I discovered the small pockets to store the sewn on straps which I don't need as I can use the bungee straps, but what the ****'s the loose neoprene pad is for? I can find no separate mesh pocket mentioned in the product description. I like the bag but would have appreciated instructions to save much time setting it up.
Amazing tail bag
12 July 2018 by Christos K
Three hour, 300 km trip on my GSXR 600, traveling at about 140 kph and the bag didn't move at all and not one scratch on my bike's bodywork. I highly recommend this bag.
Brilliant
16 June 2018 by Diarmid M
Great bag, it's very surprising what you can actually fit into it plus it comes with a great rain cover and all the padding to protect your bike.
Description
QBag Tail Bag 4 - Black
26-litre main capacity
All comparments equate to 40 litres
100% nylon outer construction
Mounts using a hook system
Self-locking zips used throughout
Three separate outer pockets
Rain cover included
| Length | Height | Width |
| --- | --- | --- |
| 32cm | 30cm | 40cm |
Product Specification
Manufacturer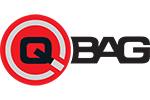 About
QBag
QBag firmly believes that high-quality motorcycle luggage doesn't need to cost a fortune - and their wide range of German-designed bags are proof. Producing a variety of expertly engineered backpacks, tail bags, tank bags, waterproof roll bags and more, there's a great-value storage solution for everyone - whatever, however and wherever you ride.

You won't get it cheaper.
Our Price Match Promise.